Learning is not attained by chance, it must be sought for with ardor and diligence. (Abigail Adams)
One of the most important things I did last year as far as my art goes, was to take some time to be a student again. After teaching for the last three years I was feeling the pull to go and fill up the well as it were and just immerse myself in creating art in a different place with a different mindset and pursuit. A journey of exploration and edification! My good friend Kathie had been tempting me with her excitement of an upcoming trip to Barcelona – Painting Big in Spain with Judy Wise and Katie Kendrick. Not being too far away to travel, I surrendered to the idea of ten days away sight-seeing in Barcelona and creating art in a remote art retreat near the mountains of Can Serrat. Now, I say surrendered – but really I didn't put up too fierce a fight.
It really seems an impossible task, condensing this whole experience into one blog post but I think my images say more than my words ever could. I had been to Barcelona before perhaps twelve or so years ago and it was a wonderful trip – but with so many other places to see and experience in the world I had not thought I would ever go back. But with the different perspective of the second half of the trip being dedicated to art, it enhanced the experience in every way.
From wandering the streets with other creatives as we chattered about the wonderful buildings and the narrow streets in the Gothic quarter, to the must-see fantastical Gaudi buildings, the Sagrada Familia and Park Guell. We had wonderful tour guides who embellished our walks with so many fun details and information that you don't always appreciate when on your own.
When I visited Barcelona 12 years ago the inside of the Sagrada Familia was a bare shell – all boarded up with very little to see. Now look at it – awe-inspiring!! I am the worst recorder of images when on holiday – I get so caught up in the moment that I literally don't even think of interrupting the moment to lift the camera up and view through that lens. I am happy to just stay in the moment and view through my human lenses – but that means I come back and whilst I have the memories I end up with far fewer photographs than I might have wanted!
With our spirits replenished, our eyes delighted and our feet aching – our stomachs were equally satisfied with a wonderful gourmet tour around small family run businesses where we were tempted with a highly authentic taste of Spain and of course there was Tapas in the evenings. Art was also on the menu with visits to both the Picasso and Miro museums. Full of inspiration and with canvas at the ready, we travelled onto the next part of our trip – a remote farmhouse/art retreat at the foot of the mountains at Can Serrat for five days of glorious studio time to Paint Big. Now lugging an extra heavy bag filled with huge rolls of canvas was not the most delightful aspect of the trip – but it was worth it. When we first walked into the 2 studios with the light streaming in and found our space to work we could not move fast enough to get those canvases stapled up to the wall and begin painting.
With Judy teaching 2 days and Katie the other 2 days we then had a free day to finish off our work. The name of the class was Paint Big and Paint Big I did! Most of the work I completed during this week was around 180 x 100 cms – bigger than I have ever painted before!
The focus of Judy's lessons was Non-representational art and it was mesmerising watching Judy work in such an intuitive and responsive way with her tools and paint. It is an absolute honour to watch an artist at work – we work alone so much of the time, in our heads and our hearts –  to see an artist in that moment where they are creating as they  do in their unique way is such a joy. I was lucky to share the studio with Judy as she worked over the next 4 days on her paintings  – creating and obscuring over the over again – it was magical. That confidence to surrender to a process that creates and destroys over and over again only comes with being truly authentic about expressing what is inside. I can only hope that it will come to me in time.
Our turn came to paint and I don't mind admitting that at first I struggled. Whilst I worked on abstracts and a non-representational way of painting at art college over 15 years ago – for a long time now I have dedicated my practice to creating artwork that is based on observation albeit with a focus on expression. Given permission, indeed positively encouraged to put all that aside and work in a non-representational way had me in a spin at first. It was so hard to completely let go and just allow each mark to appear as a response to what was already on the canvas.
I struggled and fought for that whole first day before deciding to go with the attitude of 'I will just fake it till I make it' – no expectations – just at this point thinking the whole week was going to be a bust if I could not figure out how to surrender to the process.
The image above is the beginnings of my first painting (a terrible photo I am afraid) and where it is here, I was struggling big time – feeling like it was 2 separate paintings – one on each side – that were just not going to come together no matter how hard I tried. The a bold decision to just cut a whole section off (perhaps a quarter of the canvas went) and all of a sudden it came together and in that moment I found all the resistance just falling away. I was able to be even bolder with working the materials, just enjoying working the paint on the huge canvas and responding to what was there. I found myself getting completely lost in the process and this is what appeared. The physical act of painting resulting in a deeply emotional response and I love it. Again, it is not the best photo (I need to staple them up to my studio wall to get better images of them) and there are so many details that are not apparent here – layers and scratches and tiny marks and bold gestural passages that build and build.
And then I was on a roll – creating this second painting on day 2 – again at around 160 x 100 cms. The scale allowing me to make really physical painterly gestures whilst also stepping in to scratch and draw into the paint to create finer details.
Day 3 and it was now our time with Katie. Once again, I was hypnotised by seeing her work so intuitively and responsively. I could have sat there all day and indeed I did keep going back as her paintings developed over the next 2 days. Katie's work comes from deep within – like a stream of consciousness that covers and uncovers all at the same time – imagery appearing and disappearing until something dreamlike takes residence and decides to stay. So this time there was an opportunity to create recognisable, intuitive imagery if that is what we were so led to do, but still working in a responsive way. I had no idea what was to appear and that was the joy of this process!
Swept up in the moment and open to anything this rather eccentric character appeared – not too dissimilar from the characters I used to create in my costume designs in my previous life. It was all still in there somewhere! But painting on this scale once again, was just incredibly freeing and inspiring.
Day 4 and I began in a similar way – just making broad gestural sweeps on the canvas – waiting without expectation for what might appear. Quite unexpectedly my beloved harbour houses began to take shape but in a way that felt entirely process led rather than as a conscious decision. When painting harbours and those scenes that I love so much I am usually working from photographs and sketches that I have taken – this was painted entirely from memory and that felt like a completely different experience. Knowing that they came from within rather than from observation. They symbolise my longing for the sea, my heritage, my own experiences of sitting for long hours in these places caught in time. I can conjure up that experience without having to be there. Again, so many small details unseen when viewing the whole painting – but you can get an idea below – ladders, ropes, steps and lobster pots scratched into the surface of the paint.
Again it is fun to look at these photos once again and remind myself of the scale we were working at. It is a completely different way of working and I hope to do much more of it in the future!
On the last day I gave myself permission to go back to my love of portraits and work from a reference image but also incorporating a much more expressive way of working on such a large scale. This character emerged through the layers of paint. Halfway through he disappeared completely only to reappear from new layers applied over and over.
I was amazed at how much energy is required to paint on this scale but also how invigorating it is work with sweeping brushstrokes and removing and reapplying the paint over and over again.
I went into this week of Painting Big with no expectations – only to enjoy the process – and so was thrilled to create 5 huge paintings in 5 days. Now to remind myself of that when working in my own studio at home! Although there is definitely something to be said for transporting yourself to a different environment to refresh your process and spark something new. It is also a wonderful experience learning from other artists, being inspired by them and bringing just a little something home to re-invigorate your own creativity. This was definitely the experience I had – incredible tutors, working alongside other students in an environment buzzing with creativity and energy, a change of scenery and the time to focus entirely on creating without the distractions of day to day life. I highly recommend it! The scenery and incredible food was an additional bonus.
So this brings me to my own ventures in teaching coming up for this year. I am excited to be working with Kathie and Bellissima Art Escapes on some art retreats this year. Portland and Seattle are sold out but there are a couple of places on our Amsterdam trip in May 2017. I simply cannot wait to share my love of portraiture and in particular the work of Rembrandt with the students. We will be visiting the Rijks Museum, Rembrandts house and studio. Just look at the studio we will be working in – a dream come true!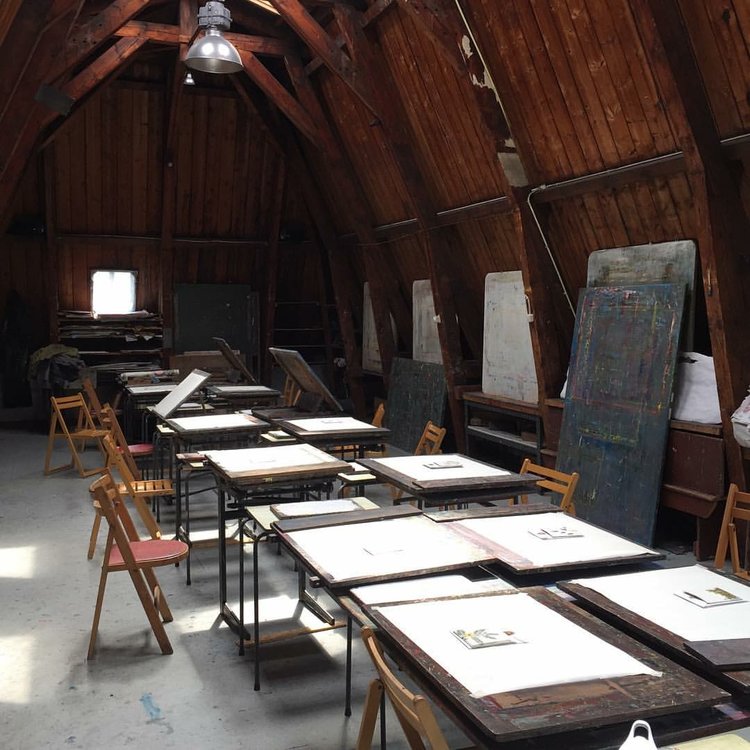 Kathie and I would love to have you join us on this very special trip. You can read more here at Bellissima Art Escapes.
If you would like to read Judy's blog about our Spain trip (and see a much better selection of images!) then you can read her blog here. 
Kathie also wrote about our Barcelona trip – here and a blog post about the upcoming trip to Amsterdam here which will give you a taste of what is to come.  I know that my own experience of being a student on an art retreat is one that I will remember for a long time to come. It has had an impact on my artwork in ways that I could not have anticipated but it has also helped me to truly appreciate the experience in ways that are not always obvious to me when I am teaching. The joy of watching an artist at work, the observing and learning and the companionship of other growing artists. There is also the trust involved in surrendering to a way of working that is perhaps not so familiar and the appreciation of time that is precious when throwing yourself heart and soul into creating art in a different place with no distractions.
So now I get to take that forward into my own teaching. I am so excited for the trips I have coming up!