The last few months have gone by in a bit of a blur – but I have had the most wonderful time first of all preparing work for a brand new exhibition and then travelling to the West Coast of the USA to teach in Seattle and Portland. The images below are a wee visual tour of the exhibition space featuring work by Paul West and myself.
Going round the room in a clockwise direction – oils and acrylics on canvas by Paul West
I wanted to share with you some of the work that I completed for the New Northumberland exhibition at the Old School Gallery in Alnmouth, Northumberland – some of these pieces are the work I have been sharing with you since the beginning of this year and some were pieces that I did not have a chance to share as I was so busy creating for the April deadline. Dale and Penny of the Old School Gallery found my work via Instagram (yaay for Social Media!) and after I attended a couple of print workshops in their gallery last year. Planning their exhibition programme for this year they were very enthusiastic about pairing my work with that of another artist who is hugely inspired by this beautiful are of Northumberland.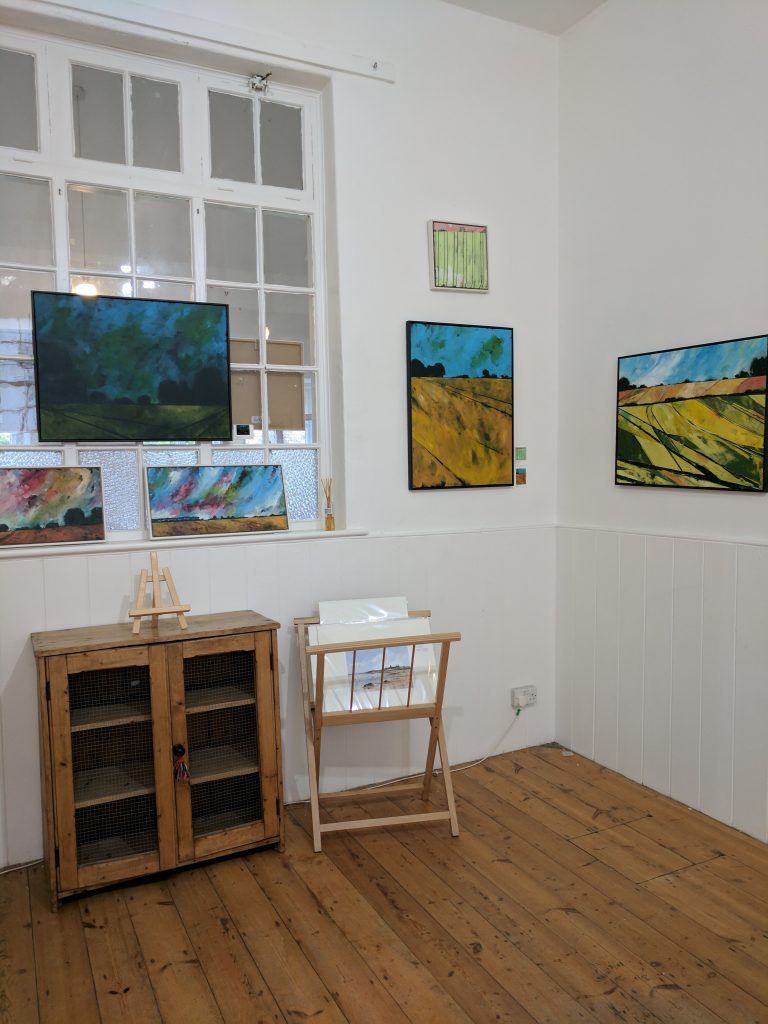 I love Paul's use of saturated colour and those glorious open fields and skies.
These are the first paintings you see as you enter the room and they are so striking and inviting! Oils and acrylics on board by Paul West
Paul West is a London based artist who frequently travels up to Northumberland. His spectacular landscapes feature low horizons, huge skies and an exceptional use of colour and texture. Penny and Dale were excited to bring our works together in an exhibition that would display our deeply contrasting work that reflects this local area.
The top painting is the cottages at Boulmer (excuse the reflection on the paint). It is one of my favourite paintings that I completed just before the show and features layers and layers of oil colour and texture. 
The top two paintings are Between and and sea and The view to Warkworth and are oil on board. I was over the moon with the framing of all the work – the oil paintings are float mounted which suits the pieces perfectly and gives them room to stand out from the frame. Below are some mixed media pieces and smaller oil work on board which I created last year.
With quite a tight deadline I spend the first three months of the year focused on creating new landscapes and experimenting with a more abstract way of rendering my love of the atmosphere of the coastline in my work. It was such an interesting journey as I wrote about how these pieces came about in the blog posts here, here and here. All in all I completed ten new pieces which worked alongside some of the landscape work I created last year. Whilst I have been creating artworks that feature figures in landscapes for a wee while now, I still feel very new to landscape work. I can't help but feel immersed in this new subject matter and it has been such a huge inspiration to me since we moved to Northumberland early last year.
There are quite a few pieces inspired by my favourite village (so far) in Northumberland. I can't wait to get out and about sketching at Craster as soon as I can!
Another piece completed just before the beginning of April. This piece has been up on my studio wall unfinished for quite a while and I was not sure if I was every going to go further with it – but all of a sudden I just went for it with paints and ink and it all came together in the end and now it is another of my favourite pieces in the show. Harbour Houses – Mixed Media on Paper (2017)
Initially unsure if I was going to include any of the more abstract pieces in the collection, upon seeing the work all together I am so glad they did. Whilst they contrast with the more representational work they explore a more intuitive interpretation of the area and combine my beloved colour palette and the textures and atmosphere that are so key in all of my work.
After a couple of visits with the Old School Gallery we were able to select the work and view it all together before it went in for framing just before I left for the USA for my workshops. I am so over the moon with the framing – simple in colour it leaves the work to speak for itself. Three days after I returned home and after recovering somewhat from jet-lag I was delighted to attend the preview evening at the gallery which had an incredible turn out of local art admirers and friends of the gallery.
Representation pieces sitting alongside my more intuitive pieces but again with the connection of colour and atmosphere. I am so pleased with how all these pieces work together to tell the story of my love of this area.
Above you can see a corner by corner tour of the whole exhibition space and I am so pleased with how it all turned out. It was fantastic to finally meet Paul and chat with him about our deep love of the area and marvel at how we are both inspired by the scenery and landscapes but in completely different ways. I love that our interpretations are so unique and the contrast between the beautifully saturated depictions of the land and sky by Paul and my more muted interpretations of the coastal areas.
A very happy photograph of Paul, myself, Penny and Dale on preview night! 
The New Northumberland Exhibition is on display at the Old School Gallery in Alnmouth until 9th June 2017.
I have lots of in progress shots of some of the work completed just before it went in for framing so I shall share some of those in a future blog post.
I am soon off to Amsterdam for another workshop but will be back to painting and blogging upon my return! Thank you so much for sharing this exciting post with me – it is wonderful to be exhibiting my work in my local area and at such a wonderful gallery.
I have been blogging about my recent workshop trip in Seattle over on my Art School website – you can read that here. The blog post about Portland will also be up soon where I share memories of the incredible work created by the artists who joined me in both cities. I am excited to also share the launch of my brand new Art School website which has been brilliantly redesigned and renovated by The Artists Ally – I am so pleased with how it all looks!